Richmond, Texas Drainage Systems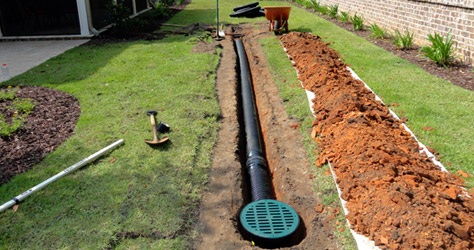 Drainage Problems can be a pain, so you need the number of a local Richmond, Texas company that can help. Able Sprinkler and Services can install a Drainage System for your home or business, as well as provide solutions to Drainage Problems. Do you have standing water lines? Then rely on a Houston company you can trust. We can provide prompt solutions to Drainage Problems and install many types of new Drainage Systems. We can build a French Drainage System, fix existing Drainage Problems, and install landscape lighting and lawn sprinkler systems.
Choose Able Sprinkler and Services when you want to find a Richmond, TX drainage system expert. We offer many services that are designed to nourish your yard. We are ready to show you ways to water your lawn and fix slopes on your property. Our professionals can consult with you about what installations and structures are possible and affordable. Whatever you have in mind, quality service is ensured.
If you live in Richmond, Texas or surrounding areas, then we can offer you flexible appointment opportunities. Let us transform your outdoor spaces into areas that are easy for your family to relax in and enjoy. Though you may not be able to see some of the crucial systems we install.